Lisa Radford Conversation #2

FLIX

In this discussion we talked about painting not being my medium, we talked about the animation I did being good and perhaps doing more of that. Lisa noted that materiality seems really important to me, and that when you start making films the loss of that materiality can feel quite strange. (Refelcting on this there is another idea here that could be addressed as a theme, which is the loss of materiality, gah, its everything thats going on right now)
We talked about how I have trouble finishing something, committing to something and putting it out there and that i need more help with that.
She said to just trust myself and all the artmaking that i've done
, i don't need to worry about formal concerns.
She said i need to sit with the work and listen to what it wants to say. What is it that it wants?
Tune into this.
To not attach meaning to what i'm doing (and there by blocking what actually wants to be said....
which i can recognise I do often, and have done, eg: writing an artist statement and then presenting work that dosen't match up -eg: Glitter Modern)
Listen to the work and then follow it though.




Commit to the practice
and do the thing: choose methodology and number/format and just make those things.
We talked about how she had done that with her work, how she has wanted to do film but then it became about working with people.
We talked about the things i'm drawing becoming costumes and me getting into that space where i just create the films, i mentioned that I did that with a video I made (the post chairs video)
(I've gone off on a mental tangent here getting ideas for videos and images from dreams but i also notice how my mind wants to do something else and make meanings from it or plan it i think the idea is just to GO)
FURTHER NOTES IN BOOKS

I talked about my old community of practice and how it didn't work out but how to keep thinking about doing those things but in art world language. And to find new people to do them with.


Gaze


https://www.pilarcorrias.com/artists/mary-reid-kelley/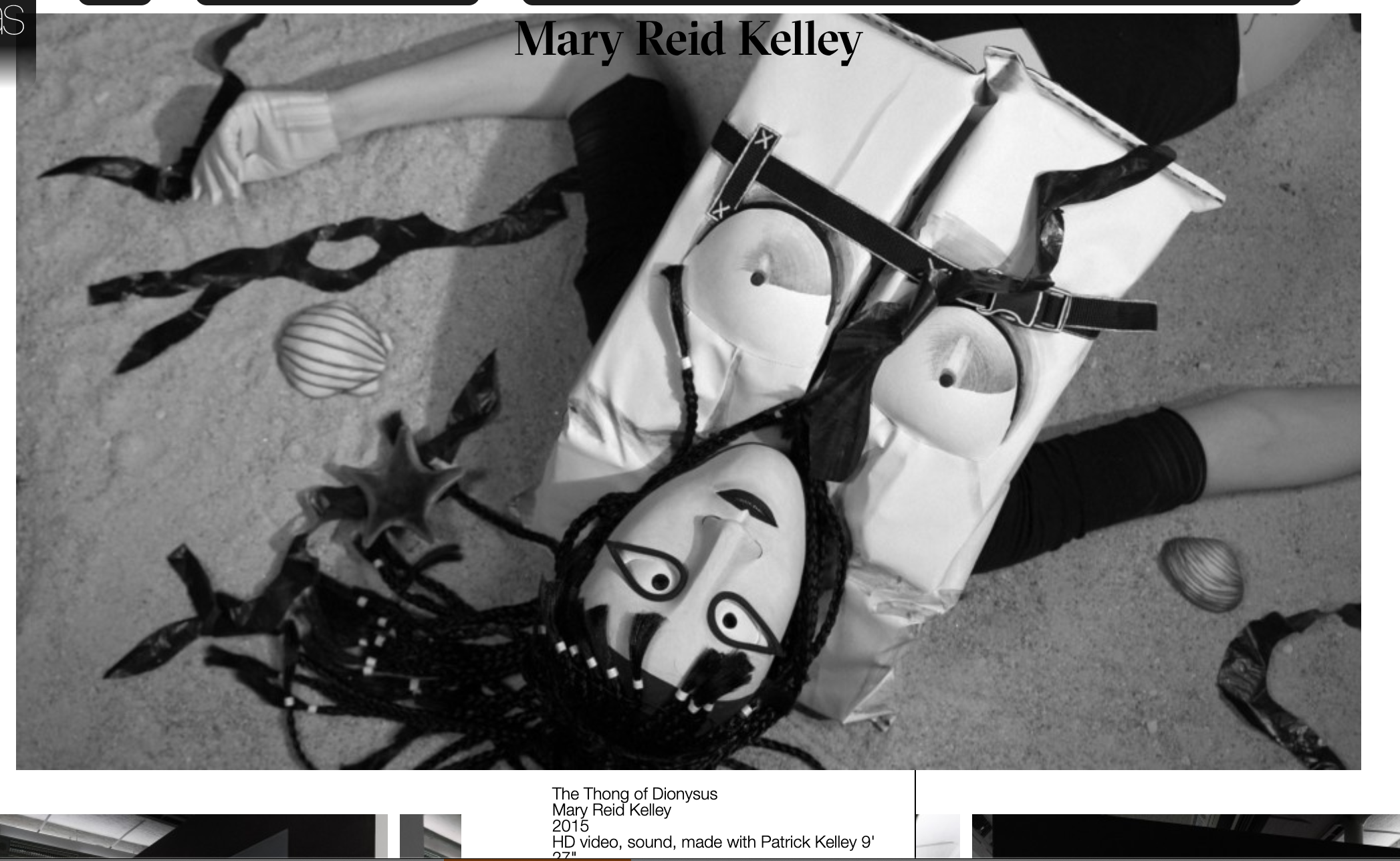 Janeanne Eaton





Alenka Zupcancik

https://en.wikipedia.org/wiki/Alenka_Zupan%C4%8Di%C4%8D

Alenka Zupančič

https://www.e-flux.com/journal/32/68246/sexual-difference-and-ontology/


Justene Williams


https://www.mca.com.au/artists-works/works/20191/


Gillian Wearing dancing in the supermarket
https://www.theguardian.com/artanddesign/video/2012/mar/26/gillian-wearing-dancing-peckham-video




Erwin Wurm
https://www.erwinwurm.at/artworks.html


Anastsia Klose
https://anastasiaklose.wordpress.com/category/i-cant-stop-living/


Nat Randall - The Second Woman
https://www.performinglines.org.au/projects/the-second-woman/


Sonia Delaney

sonia delaunay

Womanliness as Masquerade - Joan Rivere

Womanliness as a Masquerade
By Joan Riviere
http://mariabuszek.com/mariabuszek/kcai/DadaSurrealism/DadaSurrReadings/RiviereMask.pdf

What Lacan Said About Women by Colette Soler ...

Sophie Calle

Editing

Framing

Gallery

Frame

Object

Whats in relation

Media manipoulated


Judith Butler - performativity

Cosey Fanni Tutti

http://www.coseyfannitutti.com/

drag

https://www.artsy.net/article/artsy-editorial-history-drag-art